Local companies have started mandating covid-19 vaccination for staff, with one supermarket warning that those who refuse to comply will be terminated.
Hill Milling and Lionel C. Hill Supermarkets have issued a memo to staff reminding them of an instruction issued in July that they be vaccinated by September 30th .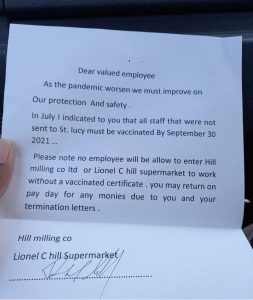 The memo states "please note that no employee will be allowed to enter Hill Milling Company Limited or Lionel C. Hill Supermarkets to work without a vaccination certificate."
It advises the unvaccinated to return on pay day for any monies due and their termination letters.
The company's managing director Richard Ashby confirmed to Starcom Network News that the memo which has been making the rounds on social media is legitimate.
He feels it's time the country as a whole makes covid-19 vaccination mandatory and believes there will  be dire consequences if firm action is not taken
Meantime, telecommunications company Digicel has also issued a vaccine mandate for staff.
The mandate requires the company's staff to be vaccinated by October 15th or submit to a negative PCR test every two weeks.
The policy applies to all employees working in Digicel Offices across the Caribbean and Central America.
Digicel Barbados has also set up a vaccination facility for its staff at Warrens, St. Michael
CEO of Digicel Barbados Natalie Abrahams explained the decision.