A torrent of concern and condemnation continues to flow from key figures and members of the general public over the Trojan Riddim mix gun lyrics music video.
It has prompted Minister in the Prime Minister's Office with Responsibility for Culture John King to express his own dismay over the now viral video.
He suggests it may be time to re-evaluate the relationship with such artistes.
But he makes a distinction between such sponsorship and the pandemic related financial support for artistes and creatives.
Opposition leader Bishop Joseph Atherley is calling on the Prime Minister and the attorney general to denounce the Trojan Riddim music video in which a number of Barbadian artistes have appeared including the very popular Lil Rick.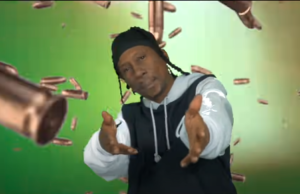 The video has been widely condemned by members of the public who believe it is promoting gun violence.
Bishop Atherley describes the video as horrific.
President of the Democratic Labour Party, Verla Depeiza, was equally appalled, especially given who was involved.
The topic also dominated VOB's Brass Tacks call-in program with moderator, Peter Wickham, also expressing his concern over the video and about Lil Rick's involvement noting that he has been an admirer of the artist and defended him in the past.
This morning Starcom Network News went into Bridgetown where we encountered some vendors on Swan Street watching the Trojan rhythm video and airing their views on it.
We spoke to some vendors and shoppers most of whom did not approve of the songs.