The shelter for the homeless in Bridgetown is under quarantine lockdown after one of its clients tested positive for covid-19, as a search commences for others who might have been exposed but are now back out on the streets.
Kemar Saffrey, President of the Barbados Alliance to End Homelessness tells Starcom Network News both staff and clients of the shelter are being tested and quarantined.
Police and health officials today moved the well-known street character known as Ninja Man from outside the Treasury Building and sanitized the area.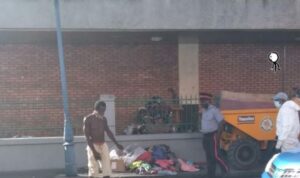 Mr. Saffrey says he fully supports that action.