WIN BIG IN 2022 WITH STARCOM NETWORK AND STANDARD!! 
YOU COULD WIN $20,000 CASH!  
PLUS,A FREE ROOM MAKEOVER VALUED AT $10,000 COMPLIMENTS STANDARD, A 450 GALLON WATER STORAGE SYSTEM VALUED AT $5,000 COMPLIMENTS ROTOPLASTICS AND $3,000 IN GROCERIES COMPLIMENTS AONE SUPERMARKET!!                                                                                         
 A SECOND WINNER WILL RECEIVE A TANKLESS WATER HEATER VALUED AT $2000 ALONG WITH $1000 CASH 
TWO OTHER WINNERS WILL RECEIVE $1000 EACH. 
DEADLINE FOR ENTRIES IS AUGUST 21ST 2022 
STAY TUNED TO THE STATIONS OF STARCOM NETWORK AND VISIT WWW.STARCOMNETWORK.NET AND OUR SOCIAL PLATFORMS FOR DETAILS!  TERMS AND CONDITIONS APPLY!
WIN BIG in 2022 with Starcom Network and Standard! Here's how to enter:
You will receive…
One entry form for every $250 spent at Standard up to a maximum of 20 entries per sale.
One entry form for every $200 spent at Rotoplastics
One entry form for every $100  spent at Barbados Steel Works
One entry form when you spend $75 at Nature's Discount
One entry form when you spend $75 or more at Mindful Market
Receive an entry form when you deposit $500.00 or more with BWU Cooperative Credit Union, sign up for new membership or apply and get approved for one of our summer or green loans
Spend $150.00 or more at Bridgetown Duty Free
Spend $50 or more at Hunte's Auto Spares
Spend $50 at AOne Supermarkets
Spend $50 or more at Abed's
Spend $25.00  at Laurie Dash Craft Shop
Spend $10.00 on ECAF Products (pronounced ay-caf)… Receive your entry form when you shop at the ECAF Factory, otherwise drop your receipt at sponsors locations.
Each active policyholder of Co-operators General Insurance completes an entry form at any location
Spend $25 at any store or restaurant in the Dome, Kensington or Canary Lane Malls
Purchase any 2 flavors of iCool Reduced Sugar
1 Bottle, any size Simply Natural Coconut oil
1 Bottle, any size Supreme Bleach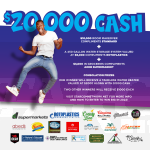 1 Bottle, any size Alcolado Glacial
1 Bottle of 750ml Claytons Kola Tonic
DROP YOUR ENTRY FORM OR RECEIPT COMPLETED WITH YOUR CONTACT INFORMATION IN THE BOXES PROVIDED AT SPONSOR'S LOCATIONS OR AT STARCOM NETWORK ON RIVER ROAD OR TAKE A PHOTO OF YOUR ENTRY FORM OR RECEIPT AND EMAIL ALONG WITH YOUR CONTACT DETAILS TO WINBIG@STARCOMNETORK.NET
ENTRIES CLOSE AUGUST 21ST 2022!
WIN BIG 2022 IS POWERED BY
STANDARD WHERE QUALITY IS A LIFESTYLE;                                  
ABEDS –  
ROTOPLASTICS – 
MINDFUL MARKET  
LAURIE DASH CRAFT SHOP  
THE DOME MALL 
KENSINGTON MALL 
CANARY LANE MALL 
AONE SUPERMARKETS  
ICOOL 
SIMPLY NATURAL  
SUPREME BLEACH 
ALCOLADO GLACIAL 
CLAYTONS COLA TONIC 
BRIDGETOWN DUTY FREE 
NATURE'S DISCOUNT
BWU CREDIT UNION
 COOPERATORS GENERAL INSURANCE 
BARBADOS STEEL WORKS  
ECAF  PRODUCTS  
HUNTES AUTO SPARES 
VOB 92.9FM, HOTT 95.3 FM, THE BEAT 104.1 FM AND LIFE 97.5FM