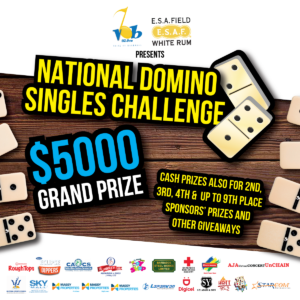 BARBADOS WE ARE BACK!
VOB AND ESA FIELD WHITE RUM PRESENTS THE NATIONAL SINGLES THREE HAND DOMINO CHALLENGE
1st Prize – $5000
2nd Prize – $3000
3rd Prize – $1500
4th Prize – $500
5th – 9th Prize – $200 each
PLUS SPONSORS PRIZES AND OTHER GIVEAWAYS
REGISTRATION IS NOW $20 AND YOU CAN REGISTER AT STARCOM NETWORK BETWEEN Monday to Friday (9am to 5pm) OR ON TUESDAYS, FRIDAYS OR SATURDAYS AT THE VENUES FOR THE GAMES – THE VILLAGE GATE, WATERFORD AND BIG RED'S BAR IN DRAX HALL HOPE, ST. GEORGE. OTHER VENUES WILL BE ADDED DURING THE PRELIMINARIES. START TIME IS 8.00PM EACH NIGHT.
Please note that once you have registered and assigned your venue and date, you need to be there at least 30 minutes before the start of the matches.
There will be a grace period of 30 minutes once the matches begin and if you are not there within that time, you will be reassigned to another day.
THE GRAND FINALS WILL BE HELD ON INDEPENDENCE DAY MONDAY NOVEMBER 30TH AT THE WILDEY GYMNASIUM.
THE VOB AND ESA FIELD WHITE RUM NATIONAL SINGLES THREE HAND DOMINO CHALLENGE IS SPONSORED BY
E.S.A FIELD WHITE RUM
HAIROUN BEER
MASSY PROPERTIES
MASSY PROCLEAN MASSY DIGI-SCREEN ODOLLS ALUMINUM AND GLASS 1986 LTD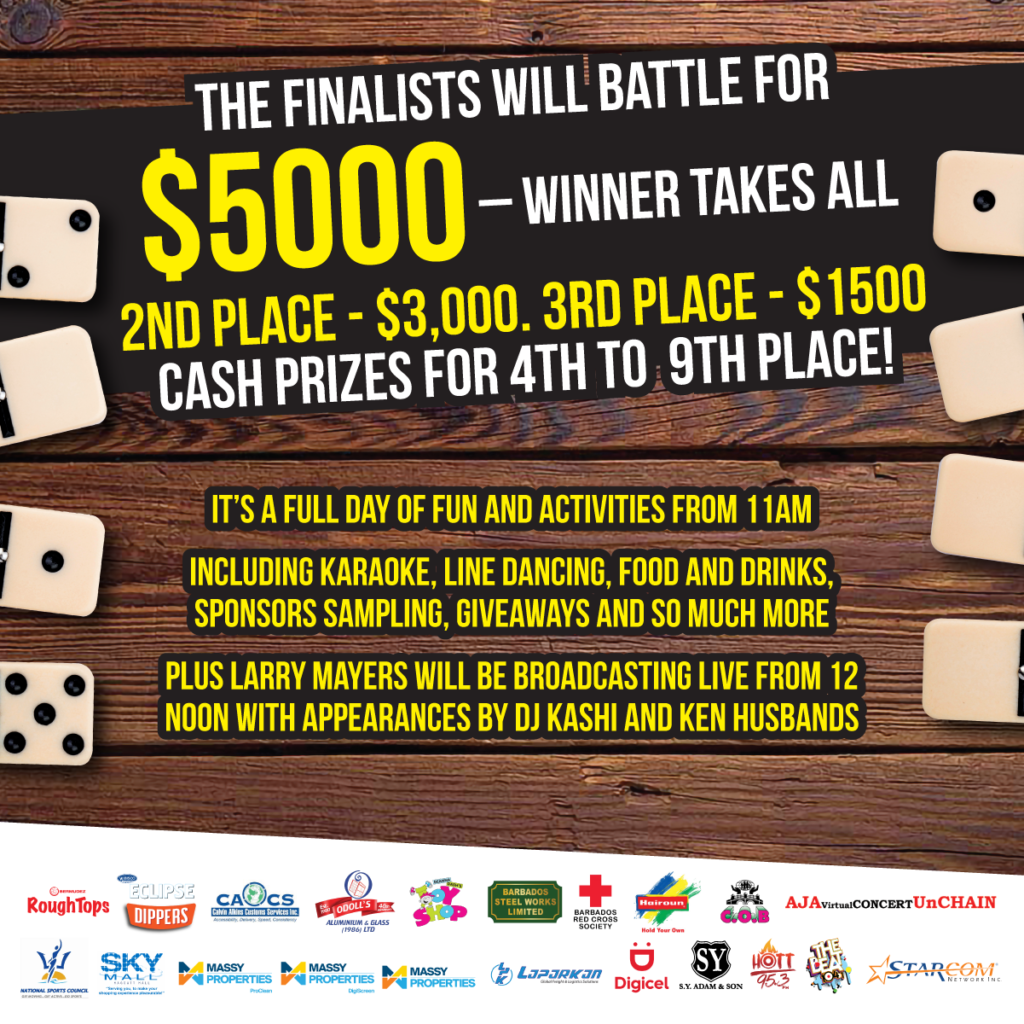 CALVIN ALKINS BROKER SERVICES
LAPARKAN
BARBADOS STEEL WORKS
ECLIPSE DIPPERS
ROUGH TOPS
DIGICEL
SKYMALL
DEANNA DASH'S TOY SHOP
SY ADAM AND SON                                                                                         
BARBADOS RED CROSS
AJA PRODUCTIONS
HOTT 95.3FM
THE BEAT 104.1FM
VOB 92.9FM.