IT'S VOB'S 40TH ANNIVERSARY AND A HYUNDAI GRAND i10 COULD BE YOURS ALONG WITH TEN THOUSAND DOLLARS! PLUS FREE INSURANCE COVERAGE FOR ONE YEAR COMPLIMENTS CO OPERATORS GENERAL INSURANCE!
THREE LISTENERS WILL ALSO WIN $1,000 EACH WITH MORE PRIZES AND SURPRISES IN STORE!
HAPPY WIN BIG SHOPPING
THE DEADLINE FOR ALL ENTRIES IS JULY 10TH  –  WIN BIG PROMOTION – Terms and Conditions
Get your entry forms and drop in boxes at:
·     Courtesy Garage – every $50 spent gets you an entry form, up to 5 forms. 50 forms when you buy a car!
·     Standard – every $250 spent gets you an entry form up to 20 entries per sale.
·     Nature's Discount – spend $75
·     Laurie Dash Craft Shop – spend $25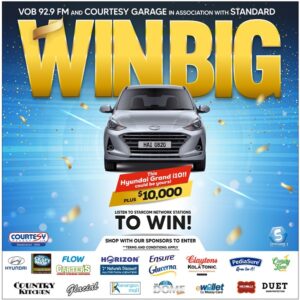 ·     RK's Auto Care – spend $20
·     SmartMed Pharmacy – spend $25
·     L&M Bar – Spend $25
·     Each active policyholder of Co-operators General Insurance completes an entry form at any location
Get your receipt when you purchase:
·     $20 worth of any Glucerna, PediaSure and Ensure and Horizon products
·     Any 3 fragrances of Duet Soaps
·     Any 3 flavours, any size of Country Kitchen Essence
·     1 Bottle, any size of Alcolado Glacial
·     1 Bottle of 750ml Claytons Kola Tonic
·     In an envelope, submit the Barcodes of any 2 Sleepy Products
·     2 packs of Nicholls salt bread
·     Spend $50 at Carter's General Stores, fill out the entry form provided (you must retain your receipts) or write your information on the back of your receipt and drop it off at Starcom Network or Nation Publishing
·     Spend $25 at any store and $15 at any restaurant in the Dome, Kensington or Canary Lane Malls
·     $25.00 spent on Kellmart.com and receive a chance to enter
·     Sign up for any FLOW double or triple service bundle and be automatically entered
PLUS
LISTEN for the WIN BIG sounder heard only on STARCOM NETWORK STATIONS!!
Note the date, time and station you heard the sounder and write them and your contact information on your entry forms or at the back of your receipts which you will receive from our shopping partners on our shopping list.
Drop your entry forms or receipts in entry boxes at the specified shopping locations (Courtesy Garage, Standard, all Nicholls and Natures Discount locations, The Dome Mall, Kensington Mall, Canary Lane Mall, Laurie Dash Craft Shop, RKs Auto Care, SmartMed Pharmacy, L&M Bar Melrose, St. Thomas, Co-operators General Insurance) or at Nation Publishing, Fontabelle or Starcom Network, River Road.
THE DEADLINE FOR ALL ENTRIES IS JULY 10TH
Keep listening to this station and visit www.starcomnetwork.net and our social platforms for details!  Terms and Conditions Apply!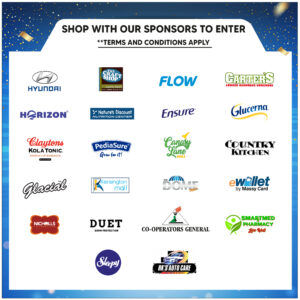 Thanks to our sponsors :
SPONSORS
•       HYUNDAI – NEW THINKING, NEW POSSIBILITIES
•      STANDARD – WHERE QUALITY IS A LIFESTYLE
•      FLOW – STAY CONNECTED AT HOME AND ON THE GO WITH FLOW
•      CARTER'S GENERAL STORE -LUMBER HARDWARE & A WHOLE LOT MORE.
•      DUET SOAPS – DUET GERM PROTECTION SOAPS…AFFORDABLE AND REFRESHING!
•      COUNTRY KITCHEN ESSENCE   – SO FULL OF FLAVOUR
•      ALCOLADO GLACIAL – PROTECT YOURSELF WITH GLACIAL
•      CLAYTONS KOLA TONIC – REACH FOR THE NEXT LEVEL
•      NATURE'S DISCOUNT – THE ULTIMATE HEALTHFOOD STORE!
•      KELLMART.COM – THE ONLINE SUPERSTORE
•      LAURIE DASH CRAFT SHOP – THE ORIGINAL CRAFT SHOP ON BAY STREET
•      E-WALLET BY MASSY CARD APP – GO DIGITAL WITH THE NEW EWALLET BY MASSY CARD APP.
•      THE DOME MALL
•      KENSINGTON MALL
•      CANARY LANE MALL
•      CO-OPERATORS GENERAL INSURANCE – INSURANCE THE WAY YOU WANT IT TO BE
•      R K's AUTO CARE
•      SLEEPY DIAPERS AND WIPES
•      SMART MED PHARMACY
•      L&M BAR
•      NICHOLLS BAKERY – ALWAYS FRESH
•      HOTT 95.3 FM, THE BEAT 104.1 FM AND LIFE 97.5FM