Hey Kids, what words would you use to describe 2020.  Well let's have some fun finding out in the Nation Starcom Top 2020 Words Contest.  Categories are divided into primary and secondary school children.
Here is how to enter.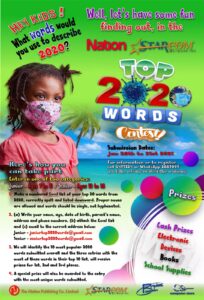 Make a numbered Excel list of your top 20 words from 2020, spelt correctly and listed downwards.
Write your name, age,  date of birth, parent's name, address and telephone number and phone numbers, attach the excel list and email to juniortop2020words@gmail.com or seniortop2020words@gmail.com
We identified the 10 ten most popular words of 2020 and the top three entries with the most of these words in their list will receive prizes for first, second and third place in both categories.
A special prize will also be offered to the entry with the most unique words.
Prizes include cash, books, school supplies and much more.
The submission date is January 15th to 31st 2020, so start submitting your Top 10 words of 2020 now!
Log on to www.starcomnetwork.net for more details.